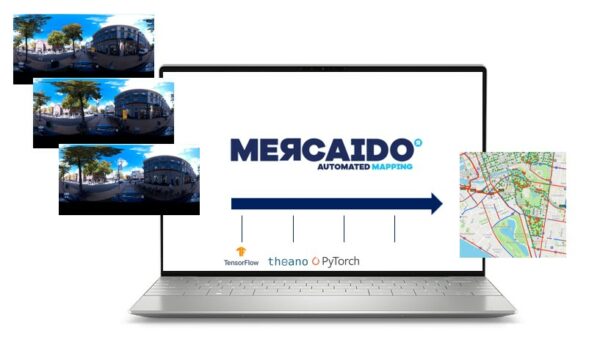 // Pixel 2 geometry
Speed and scale up mapping
Traditional mapping methods often struggle to keep pace with the rapid changes in our cities. By leveraging AI algorithms, you can analyze vast amounts of street-level imagery with exceptional speed and precision. This allows you to detect and extract crucial information, such as road networks, building footprints, and street signs, in near-real time. Your maps are continuously updated, ensuring that you always have access to the most reliable and accurate information.
Join us on this transformative journey as we reshape the future of mapping with AI and street-level imagery. Together, we can unlock new possibilities and create a world where accurate and reliable maps are the norm.
// automated mapping
How can you use AI to create accurate maps quickly?
Horus created Mercaido to make the process to locate your objects or to measure them very simple. Mercaido connects your AI models with all kinds of steet-level imagery data and retrieves the location and dimensions of your objects.
// DIY
Connect your AI, Mercaido creates maps
We built the infrastructure where 3rd party models can be integrated on the fly. You focus on recognizing objects, Mercaido helps to position, identify, locate and measure the objects and turns pixel coordinates into real world coordinates. The output will be actionable GIS data.  
// FAQ: Automated mapping
What data can be used for automated mapping?
Any georeferenced street-level imagery. Data formats like panoramic JPEGs, Teledyne PGR files, Horus datacontainer or Planar camera data with metadata can be used within Mercaido.
Where runs the software?
The software can be installed on your own server. This can be on premise or in your private cloud. 
What AI models are available?
We work with several partners that made models for automated mapping. Some can be used for your use case, some can be customized for your specific needs.
Can I use my own AI software?
Yes, we some simple steps you can publish your models as microservice that can be used in Mercaido. This opens also possibilities to re-sell your models. 
When is automated mapping interesting for me?
When manual labour costs is too expensive. Some use cases are better of with manual data entry. In general: repetive tasks on large volumes of data (>500 kilomters of data) might profit from using automated mapping models. Usually objects with clear geometries can be detected, localized and measured from images.